Prefabricated countertops are high-quality Quartz and Natural Stone slabs cut in specific standard sizes and shapes at the factory. These countertops arrive at our warehouses ready to install with minor modifications. Prefab is a good choice for builders, multi-family users and homeowners looking for a value-priced countertop material that can be installed quickly. ISTONE offers over 30 colors of prefabricated countertops in Quartz and Natural Stone.
Benefits of prefabricated quartz countertops
Lower price
Prefabricated countertops are pre-cut to standard sizes, so they can be produced in large quantities. As a result, they are much cheaper than custom slabs. Because they are cut to the most popular and useful lengths, prefabricated countertops can also save you money on labor costs if your remodeling project follows standard dimensions.
Convenience
With different edge options, prefabricated countertops can be easily installed without additional cutting or customization. The ease of installation makes it ideal for residential and commercial projects.
Due to the high volume, prefabricated countertops can also save you significant waiting time. While custom stone countertops can take weeks or even months to arrive, prefabricated countertops are available immediately if the dealer has them in stock.
Wide range of options
Because of the size and shape of prefabricated countertops, some people may think that the options for prefabricated countertops are limited. However, having a predetermined size does not necessarily mean there are fewer options for patterns or designs. At ISTONE, we offer a variety of styles of prefabricated countertops.
A variety of looks
A major advantage of prefabricated quartz countertops is their design versatility. Manufacturers can create pieces in any combination of patterns and colors with paint, providing flexibility in design choices.
With a variety of quartz countertop styles, it is always easy to find the perfect quartz countertop to match your cabinetry and flooring. Because quartz is engineered, it often has a uniform look that can make your kitchen design more consistent.
Easy to maintain
The finishing of quartz countertops makes them very cohesive. Quartz is non-porous and anti-bacterial, which means it will not harbor bacteria or viruses. This makes cleaning countertops much easier and helps keep your space sanitary.
Finding the right countertop will add tremendous aesthetic and practical value to your kitchen. Prefabricated quartz countertops can be a good choice for your kitchen remodel thanks to their own advantages.

ARTIFICIAL QUARTZ STONE WHITE CALACATTA WITH BROWN VEINS
| | |
| --- | --- |
| Brand Name | ISTONE |
| Description | artificial quartz stone |
| Material | 93% quartz , pigment ,resin ,solidified agent |
| Color | calacatta , carrara ,marble looking ,pure colors,Basic colors ,multi colors; custom design |
| Thickness | 20mm, 30mm |
| Size | 3000X1400mm ; 3200X1600mm ; 3500x2000mm ; stardard prefab size; cut to size |
| Hardness | 7 Mohs |
| Surface finish | polished, honed |
| Edge finish | flat, straight, beveled, bullnose, full bullnose, ogee |
| Package | wooden pallet ;wooden crate |
| Application | widely used for kitchen countertops, vanity top, window sills, floor tiles, wall tiles, front counters, bars, furniture,backsplashes, etc. |
| HS code | 6810191000 |
| Monthly manufacturing capacity | 130000 sqm |
| Warranty | ten Years |
Our Prefab Quartz Countertops
are available in a variety of colors and patterns, each with its own unique look. Offered in three standard sizes in a variety of colors from marble look to natural stone style, you'll find what you need to stay within your budget and on track for a beautiful kitchen or bathroom remodel. If you're looking for full-size quartz slabs,
check out our collection of quartz countertops
.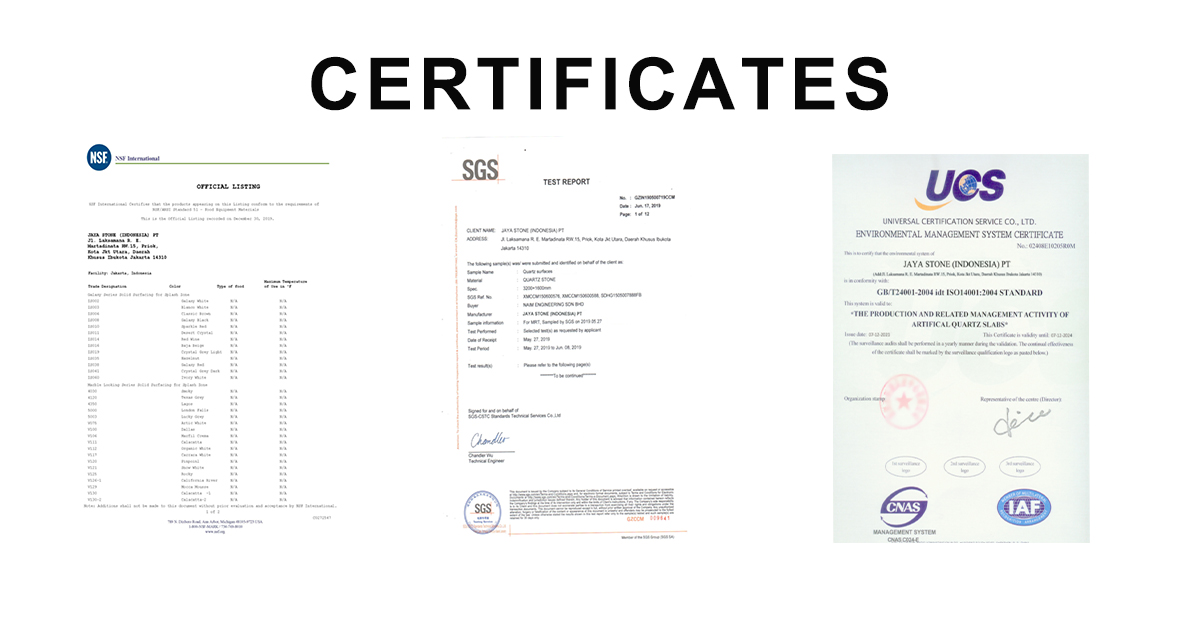 ISTONE is famous brand of quartz stone .It become quite popular in apartment buildings,hotels, and senior housing due to their durability, stain resistance ,hardness. Quartz stone have many designs like quartz with black veins, white quartz grey vein, calacatta gold veins and so on. They can be featured on walls, customized tabletops, countertop and backsplashes, leaving the applications of quartz within the realm of interior design to be endless. Inquire now!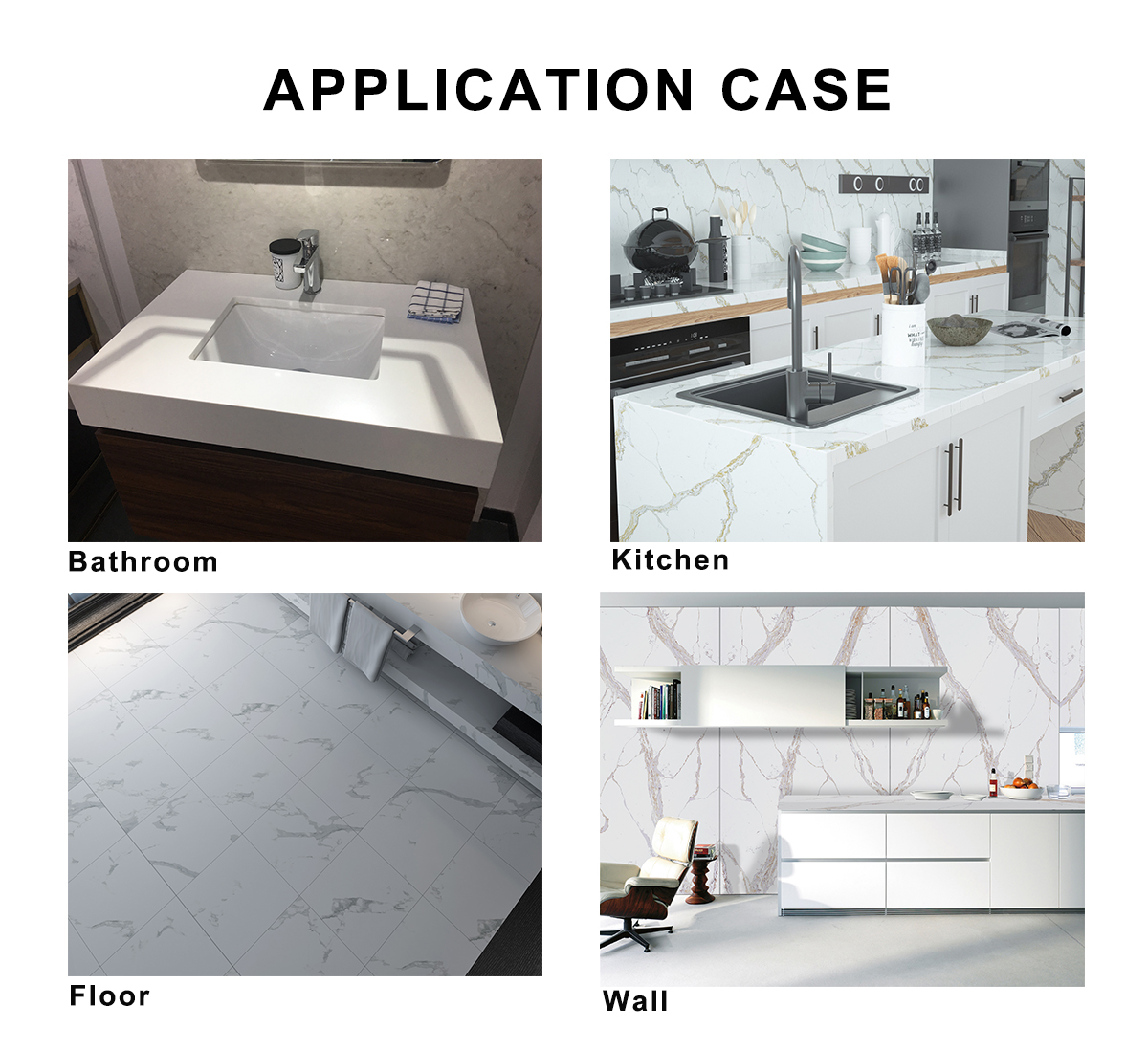 ISTONE always focus on the quality and the detail for our quartz stone. We know that the best quality could be make the best life. From the selection of raw materials to the final quality inspection, we take every step seriously, hoping that our customers receive satisfactory products finally. Every order we will check strictly for the quality, size, thickness, whiteness, gloss, etc. Contact us for any information you need or for a quote!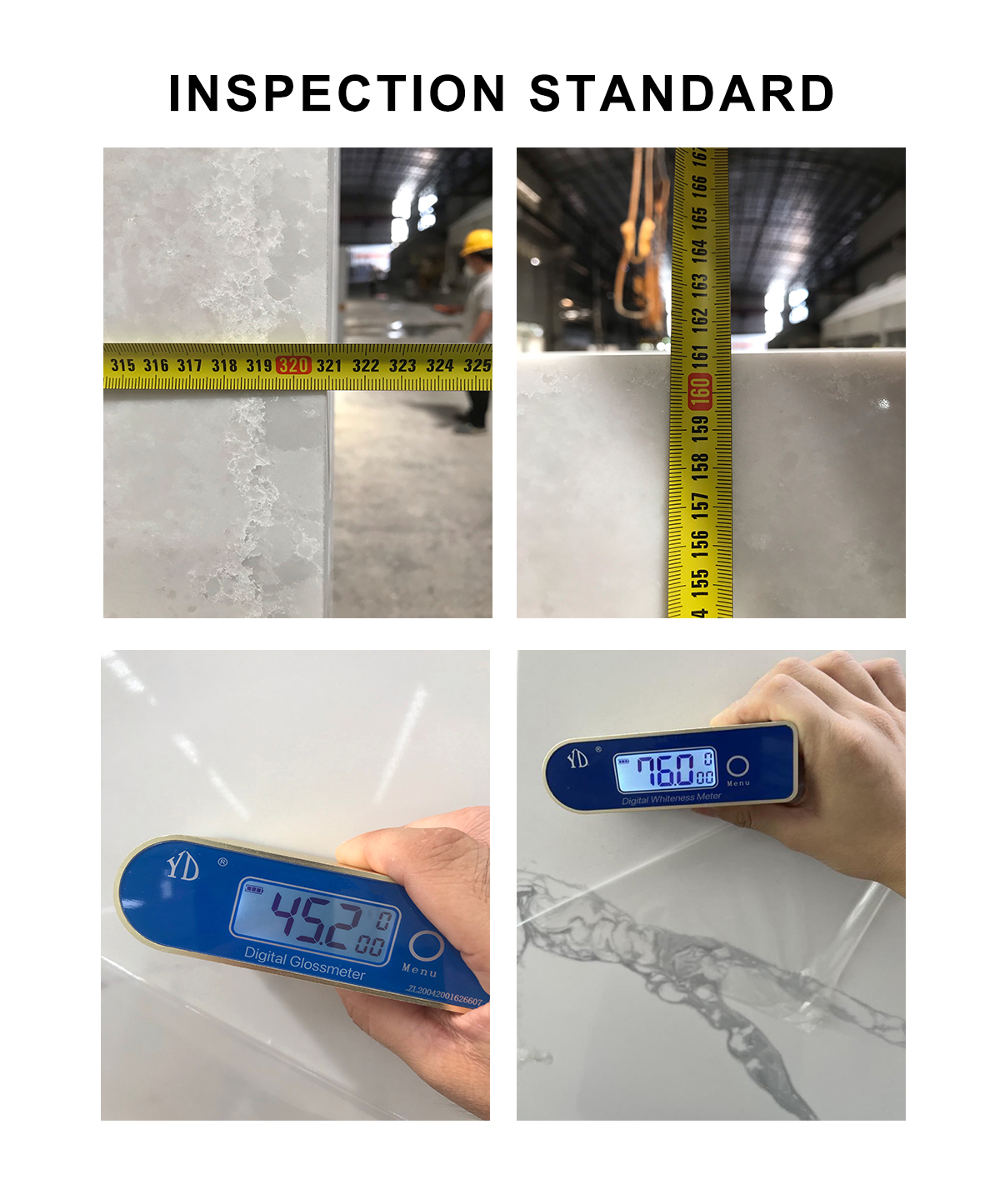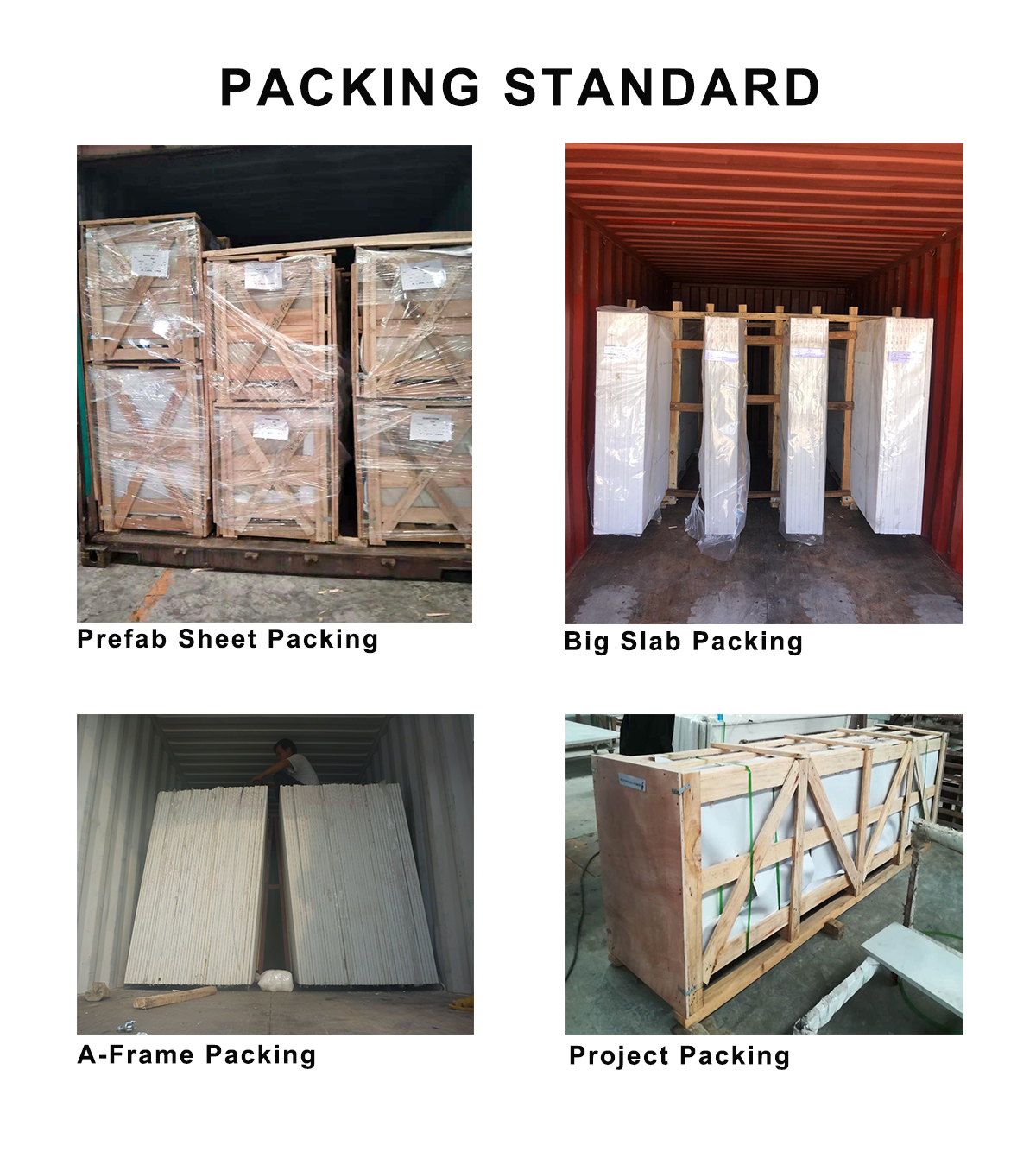 Prefab Quartz Countertops maintenance basic knowledge:
1, do not put high temperature or hot pots and pans directly or for a long time on the countertop
Directly from the stove or oven, microwave ovens, hot pots, hot pans or other over-temperature utensils and utensils will bring damage to the countertop.
2, the operation should try to avoid using sharp objects to scratch the countertop
No matter what kind of countertop you choose, you should cut food on the cutting board cooking food, in addition, to avoid leaving knife marks, damage to the knife blade, but also to do better cleanliness and hygiene.
3, the countertop as dry as possible
Keep the countertop clean, as far as possible, do not soak the countertop for a long time or water, to keep the countertop neat and dry.
4, strictly prevent corrosive chemicals from contacting the countertop
Try to avoid the daily corrosive chemicals touching the countertop, if inadvertently contact with it, immediately rinse the surface with a lot of soapy water or consult the relevant professionals.